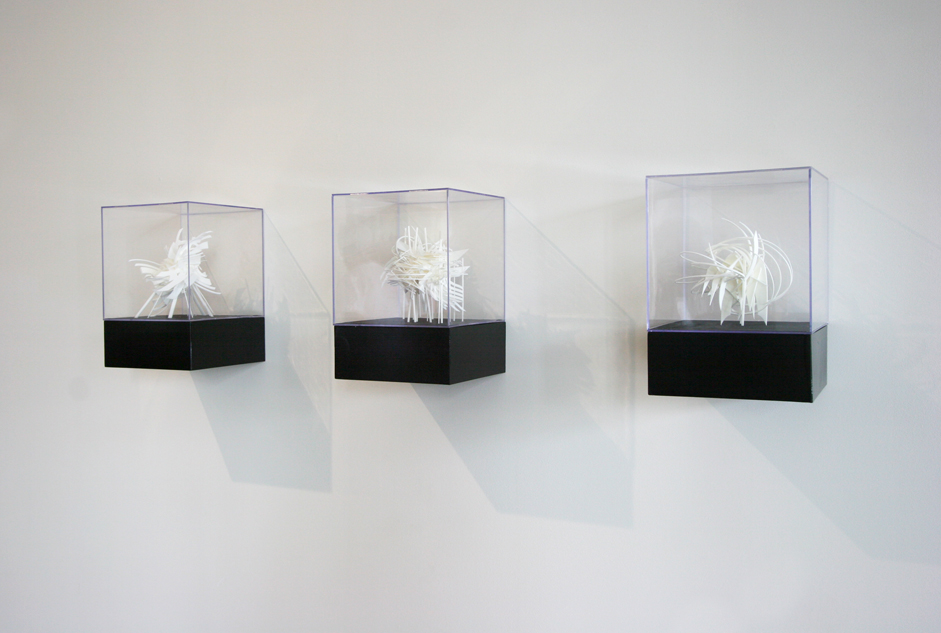 For the month of July, Zeitgeist will be handing over its walls to Atlanta-based gallery, Whitespace.

For ten years, Whitespace gallery director Susan Bridges has represented a diverse roster of artists, giving many emerging artists exposure and allowing artists to take chances. She seeks to foster an immersive environment of free expression, intimacy and dialogue.

This is the first part of an exchange (Zeitgeist artists will be showing at Whitespace next year) that hopes to spark a conversation between the two cities and shed some light on artistic trends across the southeast.
Whitespace presents an exhibition of invented worlds that read as architectural plans, graffitied cities, foreboding landscapes or technological systems. Using reductive elements such as simple shapes and flat planes of color, these works nonetheless produce complex visual cosmologies. Their drawn or painted surfaces are built up either through traditional means or though process driven methods such as obsessive erasure or meticulous pouring. While some artists push more explicit narrative abstraction, suggesting human presence through stylized figures or a subtle horizon line, others abandon representation altogether. For the latter, such compositions prioritize formal elements—form, rhythm and pattern—as the very content of the work, sometimes yielding pure geometric abstraction. Even still, such works evoke a quality of the familiar, unavoidably channeling recognizable patterns of nature such as complex systems, entropy and expansion.
dates:
July 2 - 30
opening July 2, 6-9pm
artists:
Morgan Alexander
Stephanie Dowda
Sarah Emerson
Bojana Ginn
Eric Mack
Amy Pleasant
Seana Reilly
Cassidy Russel
Pete Schulte
Ann Stewart
Zipporah Thompson